This is a car that I've been following since at least 2005, and in that time it's been through at least eight wheel changes – meaning a new crazy setup each year. I've seen a few wheel addicts in my time, but none have had a lineup quite like this under a custom-widebody bug eye.
This is one of my favorite bugeyes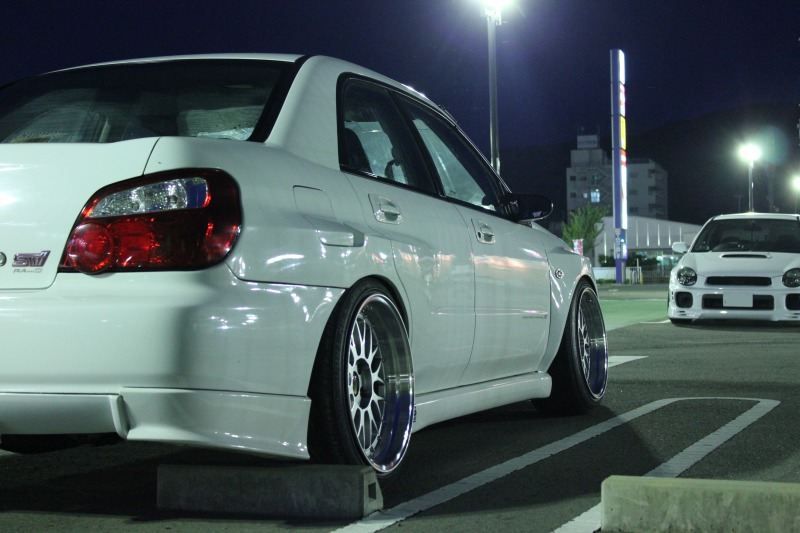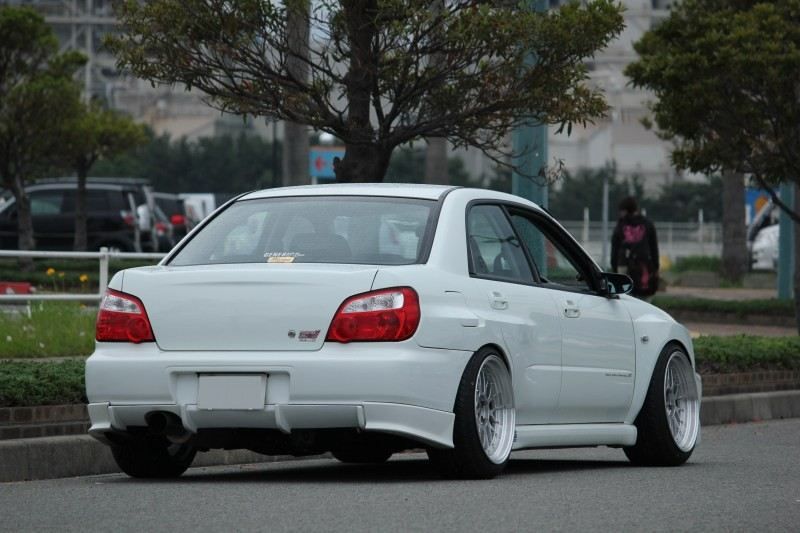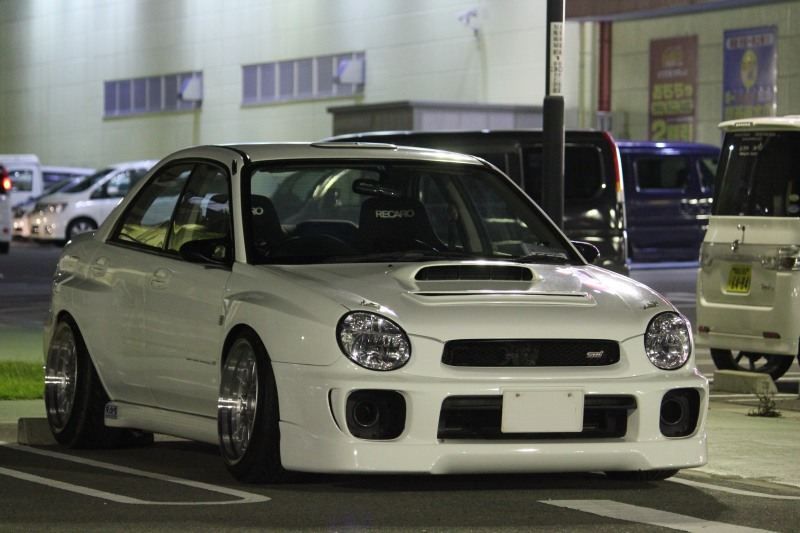 I've put off posting this car because it's already made the rounds on the jdm blogs ad nauseum a few years ago (after first appearing on the Minkara thread on Nasioc and before that ; ). It made a few posts in a few snapshot and video posts. But finally this car has a new setup that's pretty jaw dropping. I really thought it would go the Volk Racing TE37 Tokyo Time attack route since it seemed to be on a TE37 bender for a while there.
This widebody bugeye belongs to Itakichi and resides in Japan. It sports one-off 80mm wide fenders, and attention to detail like you've never seen (notice how the bumper is blended into the Version 1 front lip, the de-whiskered front vents, intake funnels in the foglight housings, and despite all that it still curiously has the lightweight STI type RA spec C headlights (otherwise known as USDM bugeye headlights)).
With all that said, I still think the new setup is lacking something . . .
Personally, I think the tires are little too narrow, and the camber is little too much. These photos are the BEST angles of the car that I could find, but there are some angles where it looks a little eyebrow raising. I think it would be even better with wide tires and a little less camber – Like some ADVAN A048R in 285 width would be awesome : D
Wheels to date…
1. Volk CE28N 18×9.5 bronze (back in 2005)
2. Work Emotion CR Kai bronze 18×9.5 (back in 2005)
3. Volk Racing CE28N 18×10.5 gold
4. Volk Racing TE37 18×10.5 white
5. 5zigen FN01R-C 18×10 silver
6. Volk Racing TE37 SL 18×10.5 gunmetal/polished lip
7. Volk Racing TE37 17×10 bronze
8. BBS LM