This post has been way overdue since this car has already been a Snapshot of the Day twice AND it's one of my favorite bugeyes.
This Hawaiian bugeye started out a 4EAT WRX (nothing wrong with that!) – it was later given a full Version 7 JDM STI swap with motor, six speed, you name it – effectively turning it into the model America never got. As if that alone wouldn't cut it, Infek took it a step further – the car runs a GT-3071R turbo setup. Not exactly an off the shelf VF series to be sure.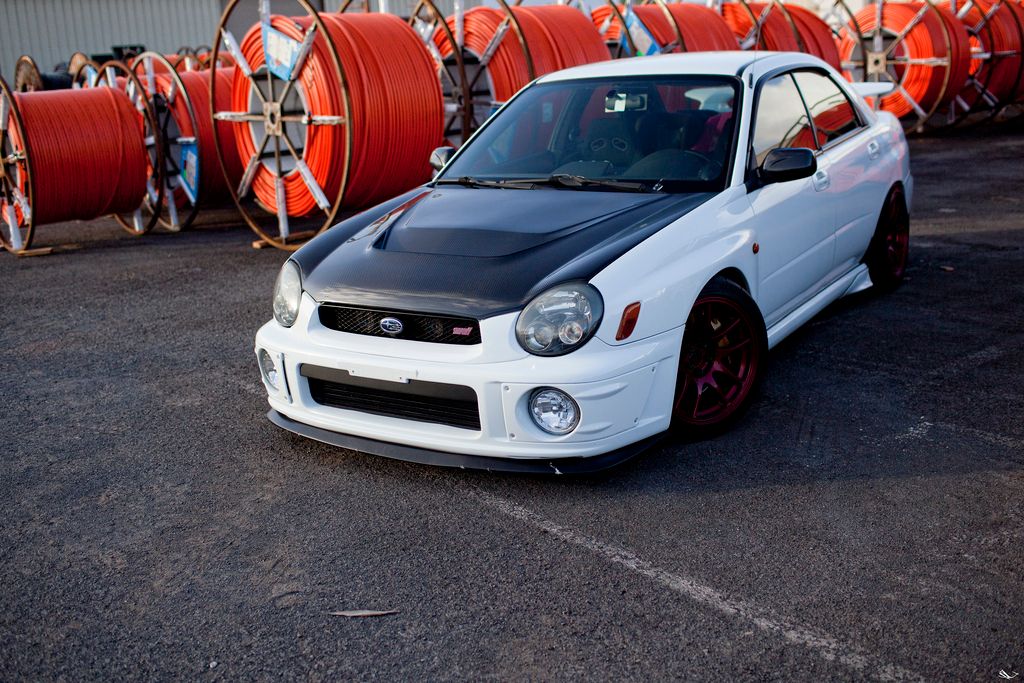 The exterior is an assortment of some of the rarest bugeye parts you can find – from the JDM STI-Prodrive edition front bumper with rare optional foglight kit, to the rare JDM 2001 model year only 'black chrome' HID headlights, and the JDM STI "limited" rear wing with from-the-factory one-piece wing riser. It would be easy to go on (and there's a mods list below so I won't – oh wait no – JDM Subaru power folding mirrors with JDM Subaru 'aero' mirror covers in carbon fiber. Ok I'm done for now.)
Some of the quirkiest things on this car make it stand out in my mind, and honestly one of my favorites. For example, it has a gi-normous APS DR550 front mount intercooler BUT infek was unwilling to cut out the black bumper trim for no reason other than he didn't want to : P. It has $$$$ baller JDM on the inside and JDM on the outside – but then bright red Rota Torques (which look basically stunning on the car, to be frank).
This car strikes me as an exceptionally honest build – picking and choosing parts not based on what anyone else thinks or following the latest trend – but rather building a car for yourself and no one else. And the overall effect is something that I think is appreciable on both the "it wasn't built to impress anyone" and "it still is one of the most objectively impressive bugeyes out there" levels.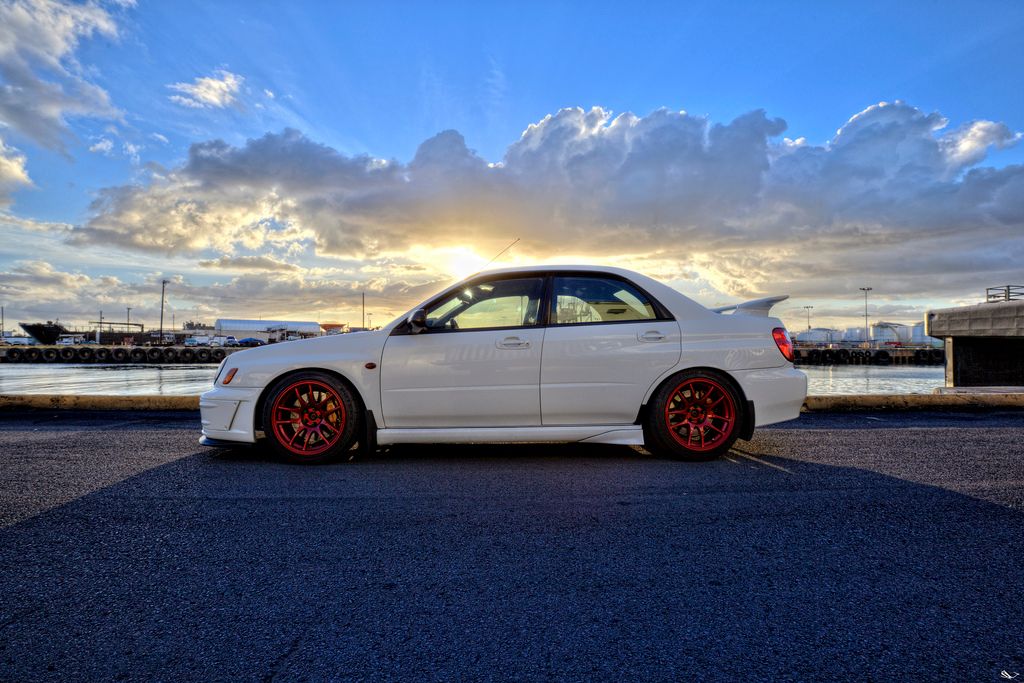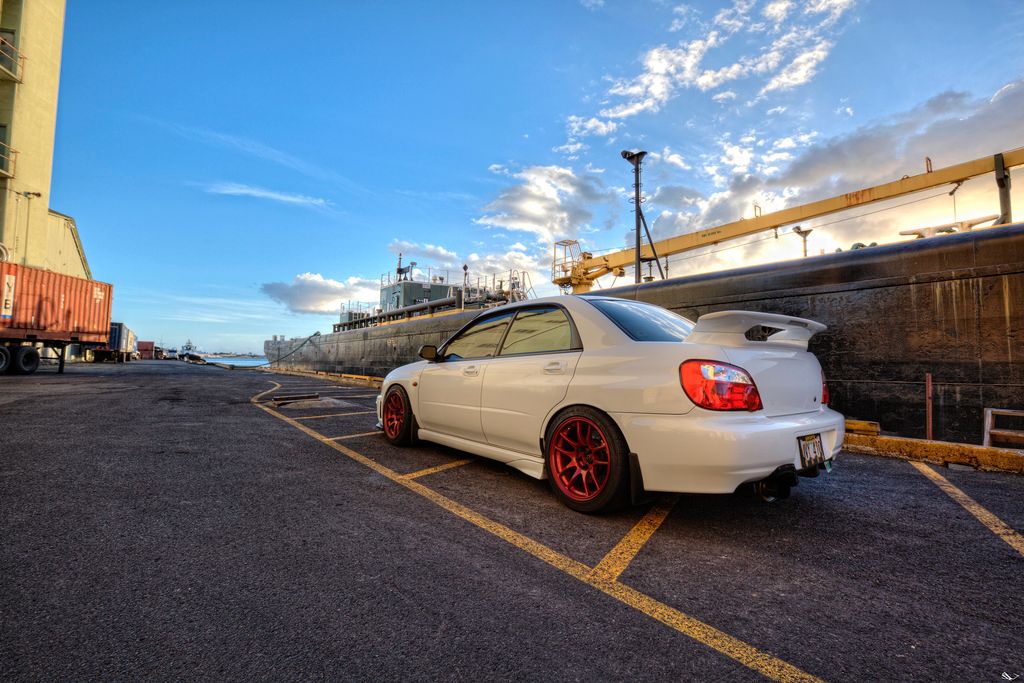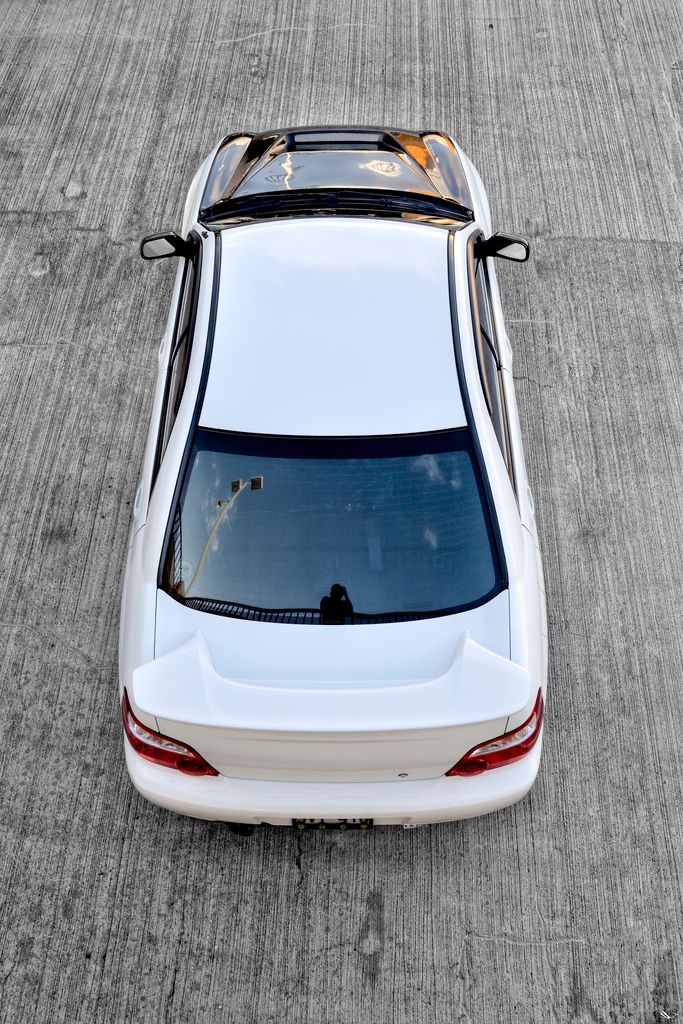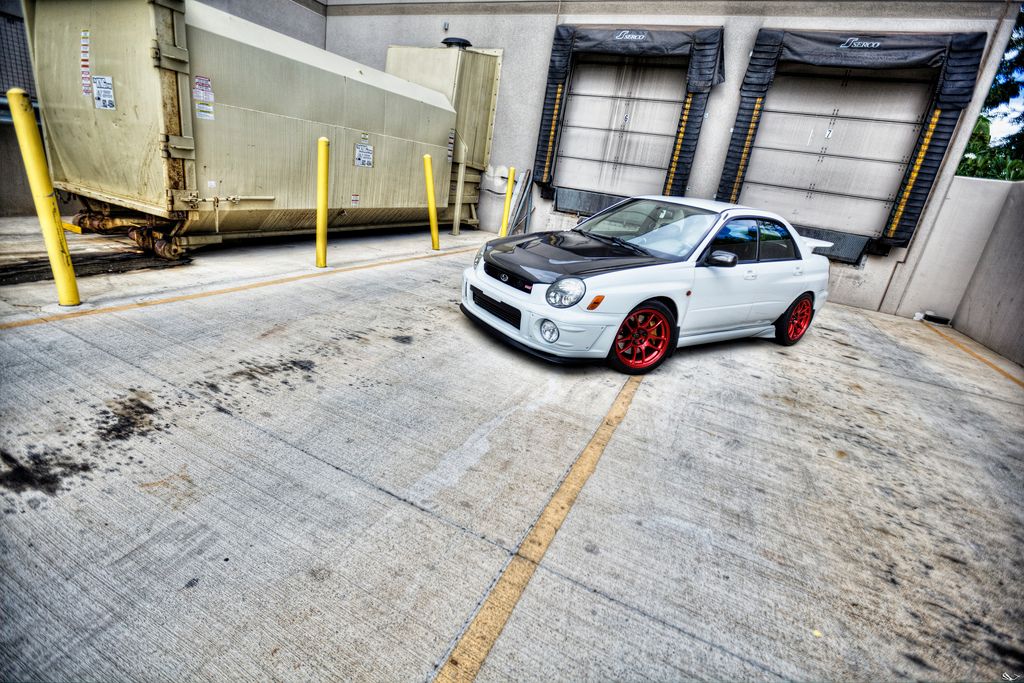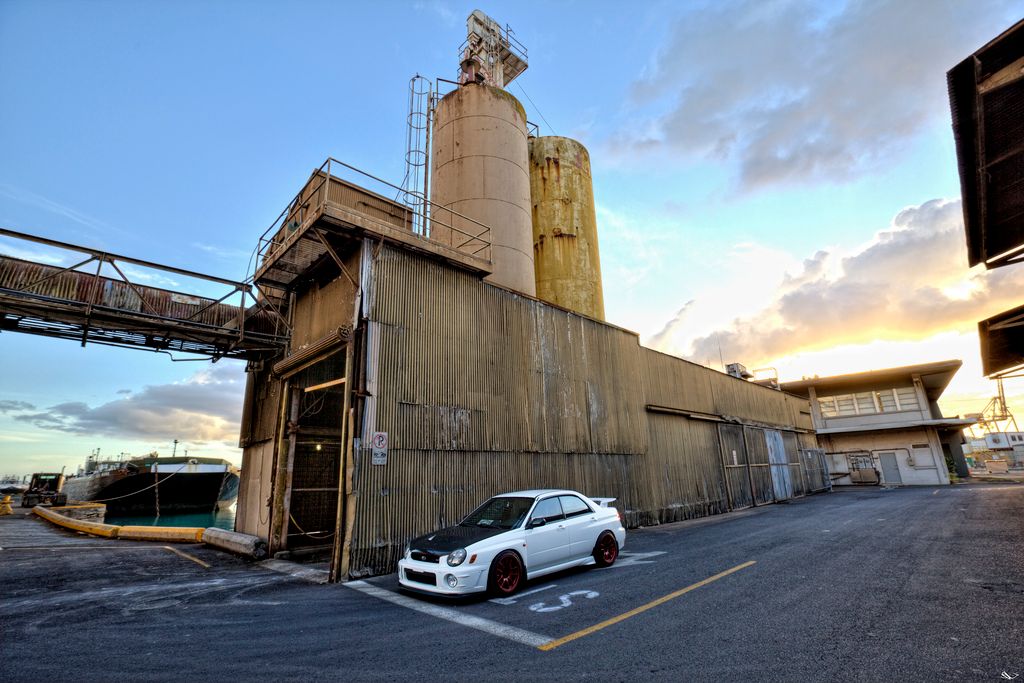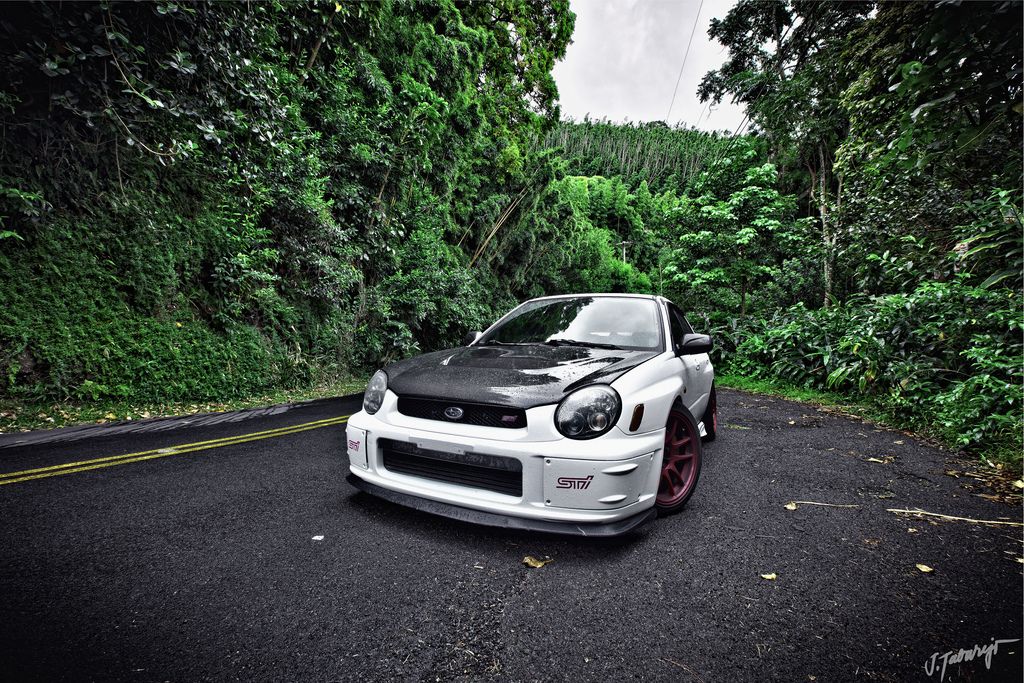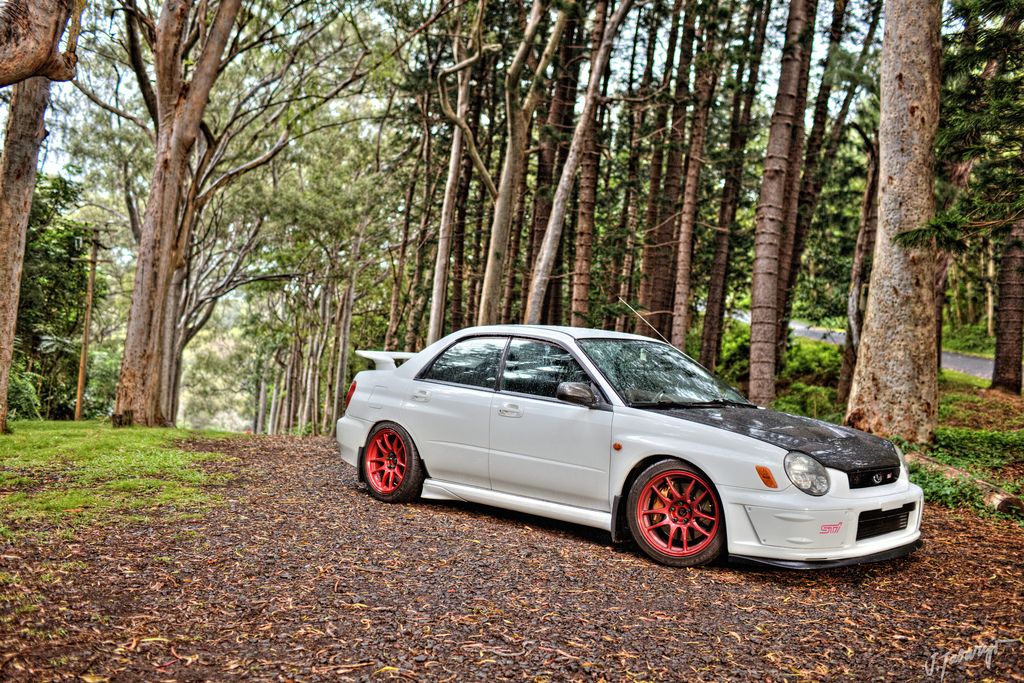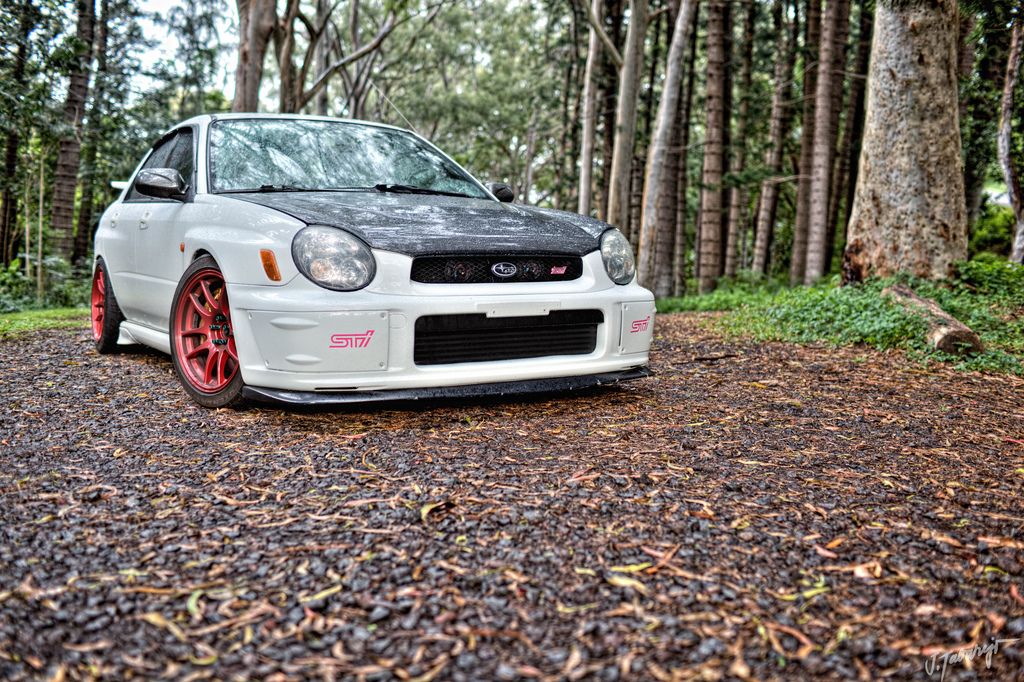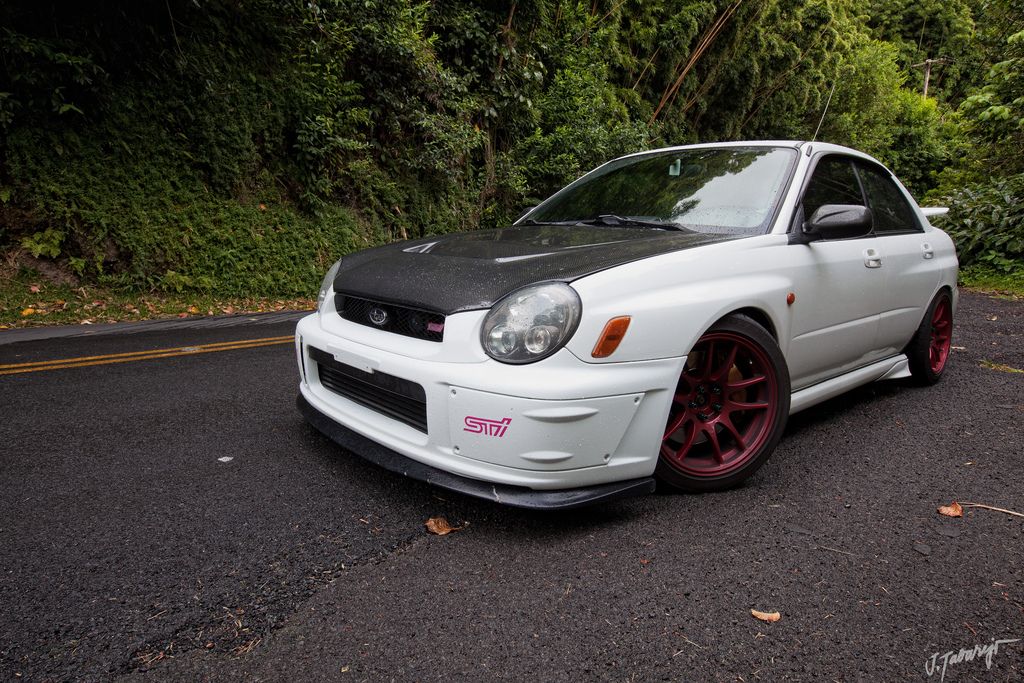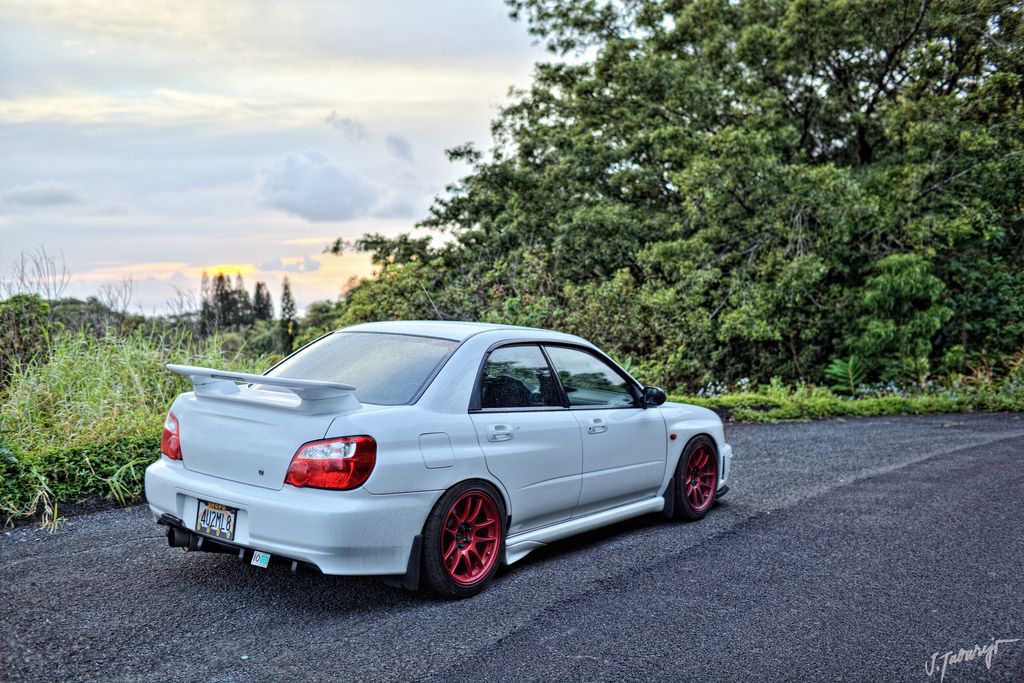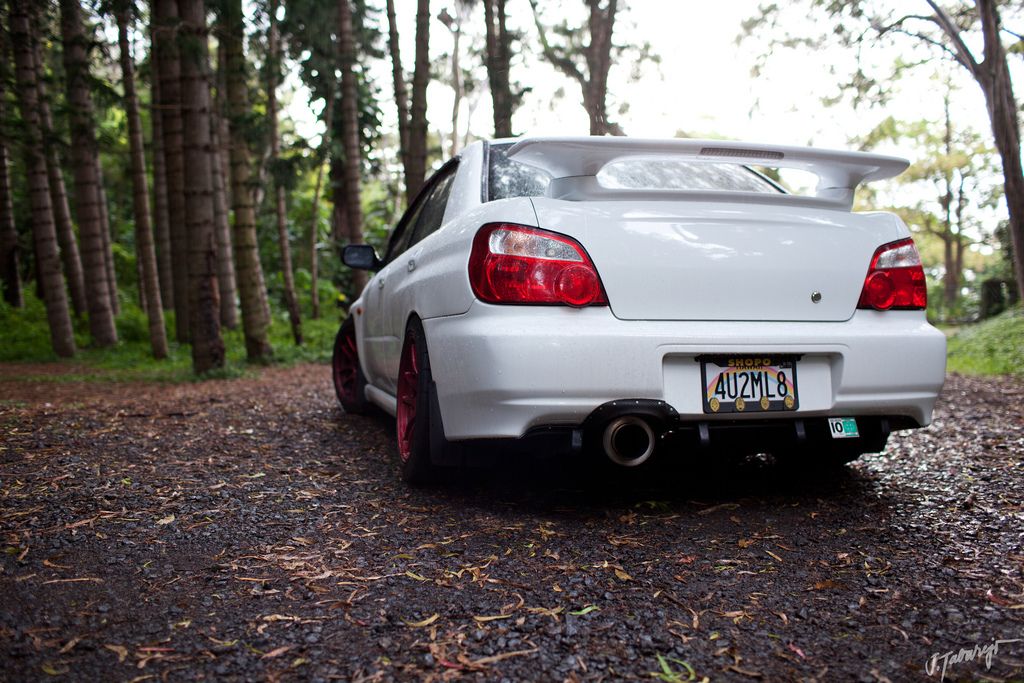 stunning photography by infek
Engine / Drivetrain
-GetaDomTune.com JDM ECU Open Source Tuned
-ATP Turbo GT3071R
-Crucial Racing Coolsafe Thermostat
-SpeedMonkee/Ron Davis Aluminum Radiator
-Subaru JDM STi version 7 EJ207 with AVCS heads
-Subaru JDM STI Version 7 Front and Rear Axles
-Kartboy Extended Exhaust Hangers
-Zerosports Radiator Shroud
-Beatrush Propeller Shaft Bushings
-Subaru JDM STI R180 Differential
-Subaru JDM STI 6 Speed Transmission (with DCCD & Suretrack)
-DCCD-PRO Universal Controller (supports auto function)
-APS DR550 Front Mount Intercooler
-Subaru JDM STI Version 7 ECU
-Deatschwerks 850cc Injectors
-APS 65mm Cold Air Intake (1st Gen.)
-Fujitsubo Super EX Basic – Equal Length (610-63031)
-Tial V44 Wastegate (44mm V-band) (Black)
-Grimm Speed V44 Wastegate Dump Tube (44mm V-band) (Ceramic Coated – Black)
-Element Tuning Turboback Exhaust
-Crawford Performance Air/Oil Separator (Version II)
-Group N Engine Mounts
-Group N Transmission Mount (6MT)
-DEI Titanium Wrapped Header, Down pipe, Up pipe
-DEI Titanium Turbo Blanket
Handling
-Bridgestone Potenza RE-11 (245/40/17)
-Subydude 17×9 +30 Rota Torque R's
-Subydude +1 6MT Short Shifter (Discontinued)
-Stance GR+Plus Coilovers
-6Gun Racing Ball Joint Extender Kit (Revision 3)
-Turn In Concepts Rear End Clunk Killer Kit
-Syms Brake Hose Kit
-Cusco Front and Rear Sway bars
-Cusco Brake Master Cylinder Brace
-Cusco Lower Arm Bar Type 2
-Paranoid Fabrications 5 Piece Under Brace Kit
-Paranoid Fabrications Fender Braces
-Kartboy Front Crossmember Bushings
-Kartboy Front and Rear Endlinks
-Kartboy Rear outrigger Bushings
-SuperPro Steering Rack Bushings
-Turn In Concepts 6MT Pivot Bushing
-Subaru JDM 2003 STI Front and Rear Brembo Brakes
-Subaru JDM STI Front and Rear Axles (Thicker Shafts and Larger CV Boots)
-Subaru JDM STI Front and Rear Wheel Hubs (to accommodate the larger axles)
Exterior
-Kaminari Full Carbon Hood with Reverse Cowl
-HT Autos STI Version 7 Prodrive Edition Splitter
-Subaru JDM STI Prodrive Version Front Bumper Fog Light Kit
-Subaru JDM STI Prodrive Version Front Bumper
-Subaru JDM Side Strakes
-Subaru JDM Front Aero Guards
-Subaru JDM STI Grille
-Subaru JDM Power Folding Mirrors (with Switch)
-Subaru JDM STI Version 8 Taillights
-Subaru JDM STI Limited Spoiler (2002) (also came on the JDM NB-R)
-Subaru JDM Impreza Rain Guards (1st Gen. — Transparent Smoke Grey)
-Subaru JDM STI Black Chrome HID Headlights
-Subaru JDM Side Markers (Amber)
-DIY Gloss Black Painted Engine Bay
-Prodrive Body Molded Mud Guards (Discontinued)
-HT Autos Three Piece Diffuser (Bugeye Specific)
-Totsubo License plate mount
-Fastline License Plate Relocation Kit (Discontinued)
-Hella Supertones (118db – "Made In Germany" – Painted Black Black)
Interior
-Subaru JDM Prodrive Gauge Cluster (with DCCD)
-Innovate Motor Sports XD-16 WB02 Gauge
-Defi Gauges 52mm IMPERIAL Link Meter Gauges (Red Needle with Green Illumination — Boost / EGT / Oil Pressure)
-Subaru JDM STI Sports Seat
-Subaru JDM STI Rear Seats
-DIY Plasti-Dipped A/B/C Pillars (Black)
-DIY Plasti-Dipped Center Console (Black)
-DIY headliner (Black Micro Suede)
Audio / Video
-Engine Noise (with additional NVH)